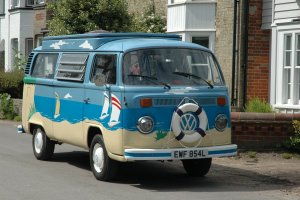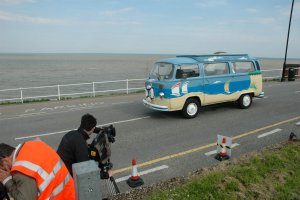 Also known as Campo in the Cbeebies series Grandpa in my Pocket, the first episode was shown in 2009 and the vehicle has become very well known with young viewers.  It was especially hand painted for Grandpa in my Pocket in a very colourful beach scene by artists Steve Beck and Sam Joy  
This camper is a four berth with two hammock style bunks above the 'rock and roll' double bed, the upper beds are quite narrow but I have used them, it also has a more recently fitted interior so not is quite as 'all original' as the others, but a great job that includes mains electric hook up, leisure battery, a fridge, sink with pumped water supply and the original two burner stove and grill.
The camper is now 44 years old but he keeps on going and going and did have a new engine fitted in 2008. It is still a very good, solid vehicle and drives really nicely with light steering and smooth gear change.
 Bed sizes. Lower: L 1.91m x W 1.26m
             2 x Upper: L 1.83m x W Head End 0.58m, Foot End 0.38m
All the campers come fully equipped with crockery, cutlery, tin/bottle opener etc. cooking utensils, kettle, everything for washing up and gas.
There is also one double duvet and two pillows supplied, (bring your own covers & sheets or hire them from us).
To see Mr Blue Sky as Campo in Grandpa in my Pocket  (link coming soon).